VT - Vertical Tray Deaerator (Single Vertical Tank)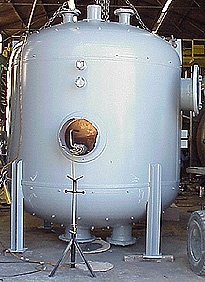 Corrosion in boiler cycles is caused by the presence of non-condensable gases such as oxygen and carbon dioxide in the boiler feed water. In order to remove the non-condensable gases, the feedwater is heated and vigorously scrubbed by a counter current flow of steam.
The incoming undeaerated water enters the deaerator though spring-loaded, stainless steel spray valves. These variable orifice valves produce a fine spray in a uniform pattern from 5% to 200% of design. The fine droplets of water maximize the surface area in contact with steam, raising the temperature to within a few degrees of saturation temperature and instantly releasing the majority of the corrosive, non-condensable gases.
The preheated and partially deaerated water flows through the tray stack where the hottest, purest steam vigorously scrubs the water to heat it to saturation temperature and strips the last traces of dissolved gases.
The entire deaeration process takes place in a stainless steel enclosure that eliminates any need for vessel lining or cladding and ensures a long life with little maintenance.
Vertical Tray Model (VT) Deaerator
Quiet operation
Guaranteed performance over wide load swings
Oxygen removal to 0.005 cc/liter (7ppb) per HEI
Capacities up to 200,000 #/hr with 100% makeup, 250,000 #/hr with condensate
Rugged design with "Central Station" durability
Options:

Accessory Package
Accessory Piping
BF Pump Package
Heat Exchange Institute (HEI) Design
Download complete VT specifications PDF
VT – Vertical Tray Deaerator (Single Vertical Tank)
Deaerator Model
(no pumps)

Deaerator Model
(w/ pumps)

Boiler
Capacity
(HP)

Rated
Capacity
(#/HR)

Storage to
Overflow
(Gallons)

Storage
Capacity
(minutes)

Water
Inlet 'A'
(in)

Steam
Inlet 'B'
(in)

Empty
Weight
(lbs)

Operate
Weight
(lbs)

Flooded
Weight
(lbs)

Price

290

4,000

93

10

1

3

1,400

3,000

4,000

Call

580

10,000

270

10

1.5

6

2,000

6,000

7,000

Call

725

15,000

353

10

2

6

2,400

7,000

10,000

Call

870

20,000

446

10

2

6

2,700

8,000

12,000

Call

1,159

25,000

539

10

2

8

3,200

11,000

15,000

Call

1,449

30,000

681

10

2.5

8

3,400

12,000

18,000

Call

1,739

40,000

811

10

2.5

8

3,900

15,000

21,000

Call

2,029

50,000

1,022

10

3

10

4,300

17,000

23,000

Call

2,319

60,000

1,234

10

3

10

4,700

19,000

26,000

Call

2,609

70,000

1,447

10

3

10

5,500

22,000

30,000

Call

3,188

90,000

1,943

10

4

10

6,200

26,000

35,000

Call

3,768

100,000

2,255

10

4

12

6,900

30,000

41,000

Call
Deaerator Model
(no pumps)

Deaerator Model
(w/ pumps)

Boiler
Capacity
(HP)

Rated
Capacity
(#/HR)

Storage to
Overflow
(Gallons)

Storage
Capacity
(minutes)

Water
Inlet 'A'
(in)

Steam
Inlet 'B'
(in)

Empty
Weight
(lbs)

Operate
Weight
(lbs)

Flooded
Weight
(lbs)

Price

290

4,000

93

10

1

3

1,300

3,000

4,000

Call

580

10,000

270

10

1.5

6

1,700

5,000

7,000

Call

725

15,000

353

10

2

6

2,100

7,000

9,000

Call

870

20,000

446

10

2

6

2,400

8,000

12,000

Call

1,159

25,000

539

10

2

6

2,700

10,000

14,000

Call

1,449

30,000

681

10

2.5

8

3,100

12,000

17,000

Call

1,739

40,000

811

10

2.5

8

3,300

14,000

20,000

Call

2,029

50,000

1,022

10

3

8

3,600

16,000

23,000

Call

2,319

60,000

1,234

10

3

10

4,000

18,000

25,000

Call

VT184-6510-05 (PKG)

2,609

70,000

1,447

10

3

10

4,400

20,000

29,000

Call

3,188

90,000

1,943

10

4

10

5,100

24,000

34,000

Call

3,768

100,000

2,255

10

4

12

5,900

29,000

40,000

Call
***Deaerator Models w/ pumps displayed in red are "Consult Factory" items***
ITEM

DESCRIPTION

ACC PKG

√
Select

A

WATER INLET

A1

Inlet Valve
Mechanical

STD

STD

Pneumatic

OPT

OPT

A2

Level Controller

STD

STD

Level Transmitter

OPT

OPT

A3

Inlet Valve Bypass Valves

OPT

STD

A4

Inlet Valve Bypass Piping

OPT

STD

A5

Inlet Valve Bypass Strainer

OPT

STD

B

STEAM CONTROL

B1

Steam PRV

OPT

Self Contained

OPT

OPT

Pneumatic

OPT

OPT

B2

Steam PRV Controller

OPT

OPT

B3

Steam PRV Bypass Valves

OPT

OPT

B4

Steam PRV Bypass Piping

OPT

OPT

B5

Steam PRV Bypass Strainer

OPT

OPT

C

RELIEF VALVE

C1

Relief Valve
Sentinel

STD

STD

Full

OPT

OPT

C2

Relief Valve Exhaust Piping

OPT

OPT

D

THERMOMETER

D1

(2) 5″ Thermometer w/ss wells

STD

STD

E

PRESSURE GAUGE

E1

(1) 4 1/2″ Pressure Gauge

STD

STD

E2

Siphon & Cock

STD

STD

E3

Pressure Transmitter

OPT

OPT

F

VENT

F1

Vent Valve

STD

STD

F2

Vent Orifice w/ Flange

OPT

OPT

F3

Vent Bypass Valves

OPT

OPT

F4

Vent Bypass Piping

OPT

OPT

H

VACUUM BREAKER

H1

Vacuum Breaker

STD

STD
ITEM

DESCRIPTION

ACC PKG

√
Select

M

BFP RECIRC

M1

BFP Recirc Shutoff

N/A

OPT

M2

BFP Recirc Check

N/A

OPT

M3

BFP Recirc Orifice

N/A

OPT

BFP Recirc ARC Valve

N/A

OPT

M4

BFP Recirc Piping

N/A

OPT

M5

BFP Recirc Pressure Gauge

N/A

OPT

N

BFP SUCTION

N1

BF Pumps
(2) 100% Capacity

N/A

STD

(3) 50% Capacity

N/A

OPT

Motors
ODP

N/A

STD

TEFC

N/A

OPT

N2

BFP Suction Isolation Valve

N/A

STD

N3

BFP Suction Strainer

N/A

STD

N4

BFP Suction Piping

N/A

STD

N5

BFP Suction Expansion Joint

N/A

STD

N6

BFP Discharge Pressure Gauge

N/A

OPT

N7

BFP Discharge Check Valve

N/A

OPT

N8

BFP Discharge Isolation Valve

N/A

OPT

O

CHEMICAL FEED

O

Chemical Feed Quill

OPT

OPT

Q

OVERFLOW

Q1

Overflow Valve/Trap

STD

STD

Q3

Overflow Piping

OPT

STD

R

LEVEL SWITCHES

R1

Level Switches

High and Low (TWO)

STD

STD

High High (ADDITIONAL)

OPT

OPT

R2

Level Switch Bridle Piping

OPT

OPT

S

GAUGE GLASS

S1

Gauge Glass

Red Line Pyrex

STD

STD

Reflex

OPT

OPT

Magnetic

OPT

OPT

S2

Gauge Glass Bridle

OPT

STD